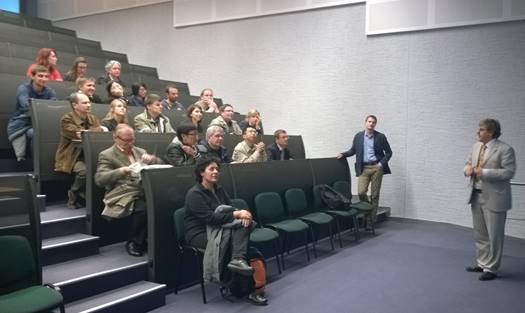 Last week CARRE consortium held its third meeting in Vilnius, Lithuania. The meeting was held right in the middle of the medieval town while we had the opportunity to visit the impressive premises of Vilnius University Hospital.
Two full days were devoted in discussing thoroughly the project progress and plans ahead. The major goal of the meeting was to review progress in WP2 – Domain Analysis and plan ahead for the remaining work of this work package. Additionally, an overview of work plans in all other work packages was presented. Administrative issues were also discussed.
A good part of the working discussions were devoted to the CARRE risk factor ontology. The consortium elaborated also on the system architecture. Different system components were identified and described in detail. Finally, external sources of data were discussed and described in detail. These include various types of 3rd party systems, such as:
biomedical wearable sensors and their data cloud services;
personal health record systems;
lifestyle related web systems;
medical literature databases; and
educational resource repositories.
During the meeting we had the pleasure to attend presentations on the work performed on three different EU funded projects, all closely related to CARRE, namely VivaPort (ICTforHealth, https://vivaport.eu/), MyHealthAvatar (http://www.myhealthavatar.eu/), and DrInventor (http://drinventor.eu/).
Author: Eleni Kaldoudi, DUTH
Date: 27 September 2014