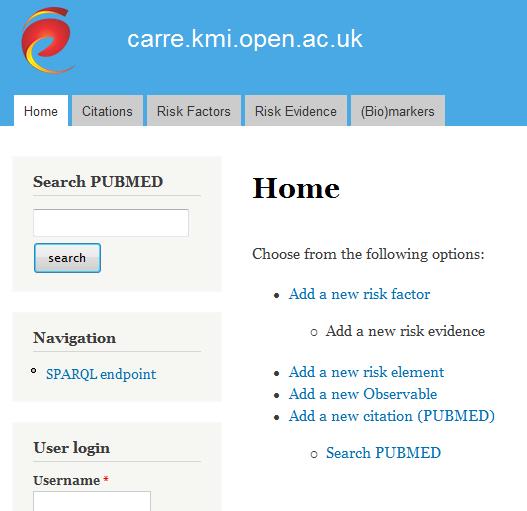 The CARRE conceptual model of risk factors enables the clinical experts in the CARRE project to encode the risk associations between biological, demographic, lifestyle and environmental elements and clinical outcomes in accordance with evidence from the clinical literature. The CARRE system is based fundamentally on Linked Data principles, and so in order to make the best use of these encoded associations, they must be available as Linked Data, making use of the vocabularies and ontologies discussed earlier; specifically, they must be encoded in the (standard) Resource Description Framework (RDF) format.
We have developed a web-based system for clinicians to use to enter this data. The Drupal content management system has been customised to reflect the structure of the model presented here, so that observables, evidence sources, risk elements and associations can be entered via web forms, and automatically translated to RDF. The system maintains referential integrity, so that if "diabetes" is entered as a risk element entity, then a risk association representing an observed link between diabetes and hypertension will refer to the existing diabetes risk element entity. Users are supported in the reuse of data already entered into the system by the user interface, which allows existing relevant entities to be selected via drop-down lists wherever possible.
In order to add evidence sources from the clinical literature, the system provides a search interface to PubMed[1], enabling publications to be located and their unique PubMed identifiers to be inserted into the system easily and conveniently.
The system is available at http://carre.kmi.open.ac.uk.
Author: George Gkotsis, Allan Third (OU)
Date: 17 June 2014
[1] http://www.ncbi.nlm.nih.gov/pubmed